Eyebrow and Eyelash tinting involves carefully coloring the brows and lashes with safe, natural tints, to give them a natural, luscious, darker appearance. Many different eyebrow and eyelash tint colors are available to complement your skin and hair coloring. Our Aestheticians customize the tints to perfectly match and compliment our patients' skin tone and hair color.
Eyebrow and Eyelash tinting are perfect options for the patient with the following situations:
You participate in lots of sporting activities, especially swimming.
You are sensitive to make-up.
You find the daily make-up routine too time consuming
You have very fine eyebrows – an eye brow tinting will make them look fuller
You want to enhance your looks
You are a contact-lens wearer who wants to eliminate applying mascara
A typical Eyebrow and Eyelash appointment takes about 15 minutes and the results can last up to six weeks.
• Brow tinting $15
• Lash tinting. $20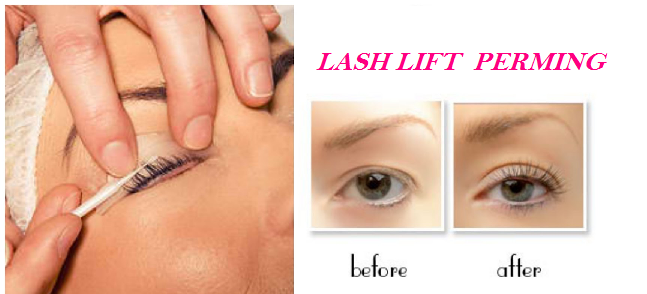 Lash Lift
Enhance your natural lashes by adding HVL (HEIGHT, VOLUME LIFT). A lash lift is a stunning alternative to eyelash extensions. This low maintenance alternative has results that are immediately visible. Plus your FABULOUS new look can last up to 8 weeks! Our clients love lash lifts because it brightens and lifts their entire face. A lash lift gives a stunning wide-eyed natural lash look, lifting each lash individually and adding an appearance of volume to your lashes! A lash lift is the perfect alternative to not only add length, volume and lift to your natural lashes, but also works to enrich, repair, protect and moisturize your lashes as well.
Eyelash lifts are perfect for those who:
Want an alternative to eyelash extensions
Want to decrease or eliminate the use of mascara and eyelash curlers
Have naturally short and very straight eyelashes
Have eyelashes that are resistant to curl
Have downward-pointed eyelashes
Have eye-makeup sensitivity
Want to brighten and lift their entire face
Wear contact lenses
Holiday / Swimming

Before your lash lift/perm treatment begins, we will start with a discussion explaining the procedure with you and determine how dramatic you want your lash lift. We will begin by using wipes to remove your skin's natural oils from your lashes. Shields will then be put into place underneath the eye and over the bottom lashes to protect them from the perming lotions. Your lashes are then combed through. We will then place another shield over your eyelid to protect the skin from the lotions. The top lashes are then lifted to stick to the shield. We then apply a lifting perming lotion and leave it on for 10 minutes. After the perming lotion is removed, we will apply a neutralizer and leave that on for 10 minutes. A moisturizing serum is then applied to release the lashes from the shield. For even greater results we recommend you lash tint for an even more dramatic look.
Below are some commonly asked questions:
*How long will the lash lift last?
Lash lifts can last anywhere from 6-8 weeks. The procedure takes approximately 45 minutes.
*Will lifting my eyelashes be painful?
No. Clients often find treatments extremely relaxing. They can relax and close their eyes (and even sleep) throughout the treatment.